Everything you wanted to know about Visiting Dubai in April month from weather, price to places to viist. The dream city of Dubai is a tourists' paradise. It attracts people from every corner of the world. Its manifold attractions, both natural & artificial, leave tourists awestruck and create memories for life.
While you can visit Dubai during any time of the year, the winter months (Nov-Feb) are more preferable if you also want to enjoy outdoors. Summers can be really punishing in this desert city. Having said that, a visit to Dubai in April is a worthwhile proposition. Let us take you through some facts about visiting Dubai in April.
April Weather in Dubai
The weather is moderate during this time. It won't be too hot or uncomfortably cold. It's a tropical climate around this time of the year.
Average temperature: 30-32 degrees Celsius

Average rainfall: 8-10 mm

Average sea temperature: 25-30 degrees Celsius
Things to Keep in Mind When Visiting Dubai in April Month
Dubai does usually face sandstorms in April. Try to get indoors or inside your car when this happens. Otherwise, you end up being covered in sand when going for a safari trip.
Though the temperature is not too high during this time, the climate is very dry. Drink water regularly to stay hydrated.

Carry an umbrella with you. In Dubai, it might rain suddenly for a few minutes in April. So, it's better to be prepared as you won't want to get wet while enjoying yourself outdoors.
Why Visit Dubai in April?
Well, why not? Here are some reasons.
The weather is just right for a whole lot of outdoor activities. But that would be almost impossible between May and September.
Even though the weather is equitable in Dubai in April, it's not the peak tourist season. So, the crowds would be lesser at the various tourist attractions. That would allow you to explore these destinations more comfortably and over a longer time.
The beaches would also be emptier and the water temperature just perfect for a long, unhurried, and relaxing swim.
Non-peak season means lower room rates in hotels & hotel apartments. There would also be attractive discounts across the shopping hotspots in the city. This would add to the excitement of shopping in Dubai by several notches.
Top Places to Visit in Dubai in April?
There are lots to do if you are visiting Dubai in April. Dubai has much to offer in terms of both indoor and outdoor attractions. Below, we will take you through some of these attractions.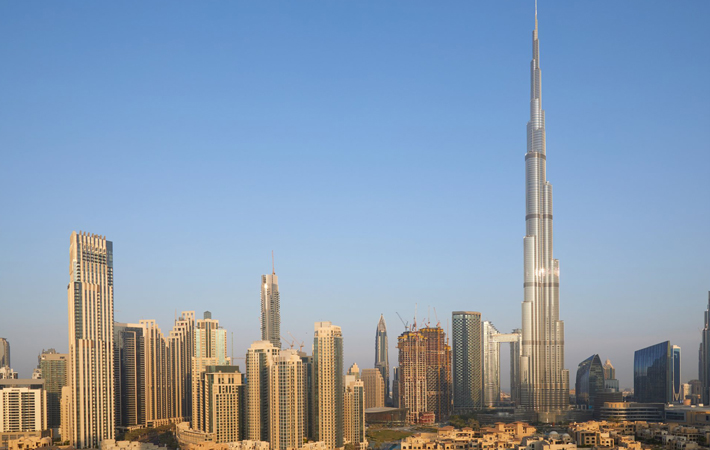 The crowning glory of Dubai, Dubai's most-visited landmark, one of the icons of the entire gulf region – adjectives fall short to describe the world's tallest building. Zoom up to the 124th-floor viewing deck to get unbelievable views of Dubai and the lands far beyond it. The elevators would showcase interesting snippets about the tower's construction. The best time to visit would be around sunset time.
An unmissable experience in Dubai is the wonderful desert safari. You can hop onto a quad bike or a 4×4 SUV and indulge in some pulse-pounding dune bashing. For a more placid experience, rid a camel and trot along the golden sands – imagining yourself to be a traditional Arab Bedouin! Catch magnificent views of the setting sun across the horizon before returning to the city. You may also choose to spend the night in a camping tent and get treated with a fantastic dinner & traditional shisha.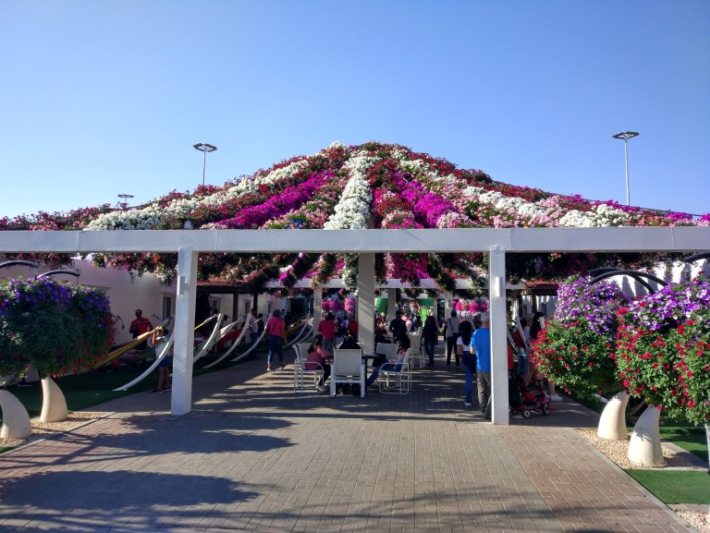 A world of flowers is what best describes the Dubai Miracle Garden. It is a world record holder for being the largest-ever flower arrangement. You would be blinded by a riot of colors as the millions of flowers create a mesmeric sight. The main attraction of the garden is a 70-meter tall model of an Airbus 380 aircraft, made entirely of differently-colored flowers. Other attractions include models of vehicles, houses, windmills, etc., made of flowers. The Butterfly Garden here is also a visual treat.
If it gets slightly hotter outdoors, then head for Ski Dubai. You would be entering an indoor slice of Antarctica in the desert land. A wide range of snow sports is here for indulging in, besides skiing. Feel the thrills & chills of real snow as you take part in a lot of fun activities. You can also interact with some endearing live penguins here.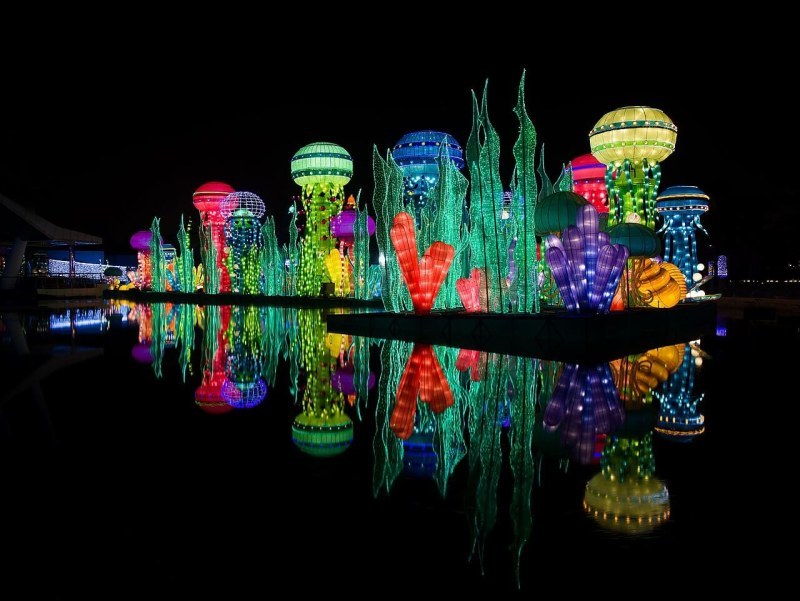 This glow-in-the-dark garden – the largest of its kind in the world – is a place straight out of dreamland. More than 10 million bulbs of various colors (and combinations thereof) create mind-blowing shapes that resemble flowers, corals, birds, jellyfish, and many more. There are disco tunnels here where you can descend and catch a glimpse of illuminated local landmarks. Animatronic dinosaurs would also give you company here. And the entire effect is hypnotic.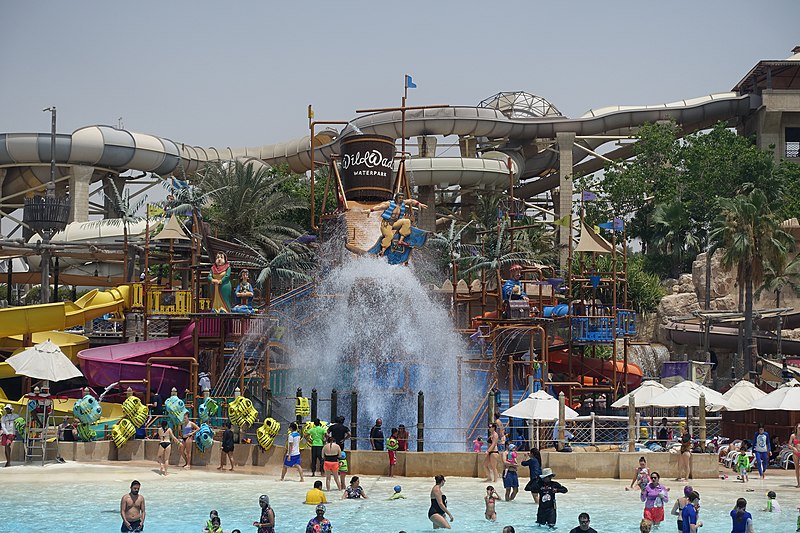 Another way to beat the moderate April heat is to indulge in some serious water sports. And the Wild Wadi Waterpark is the perfect place for this. Various enthralling water sports are available here, ensuring that you spend a fantastic time with your friends and family. There are several challenging water sports options here as well, for the adventure-minded. And the park is located on the beach, so you can continue your frolics in the cool waters of the Persian Gulf after your stint at the park is over.
This one's sure to blow your mind! The Museum of Illusions in Dubai is the largest among this chain of museums globally. Over 80 exhibits here would challenge your mind and reasoning as they take you to different levels of illusion & hallucinations. Star attractions here are the "head on a platter" & the "upside down" rooms. Walk into the Vortex – and you will feel as if the floor beneath you is moving! This museum is a must-visit owing to the stupendous amounts of illusions that it can create.
A Visit to the Dubai Mall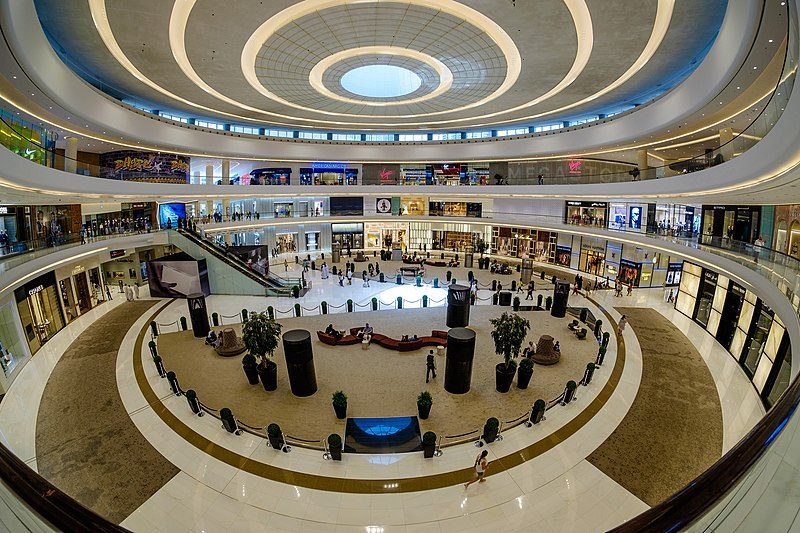 What's a visit to Dubai without some crazy shopping adventure? Known as a shopper's paradise, Dubai has the world's largest shopping mall – the Dubai Mall. Located adjacent to the Burj Khalifa, the Dubai Mall has in store for you almost every global brand of repute across its several floors. It's unlimited fun and excitement here for the entire family as you keep hopping across the 1000+ stores. Over 150 restaurants are present here to satiate your taste buds. And don't forget to visit the Dubai Fountain – among the world's largest dancing fountains – right outside the mall.

Among Dubai's largest amusement parks, there are sections here styled after Hollywood & Bollywood, providing immense entertainment. The Legoland here would provide unlimited fun to the little ones in your group and also make you nostalgic about your childhood. In all, there are over 100 thrilling rides here that promise a hundred percent enjoyment for everyone, young & old. A large number of eateries here ensure that you won't be suffering those hunger pangs!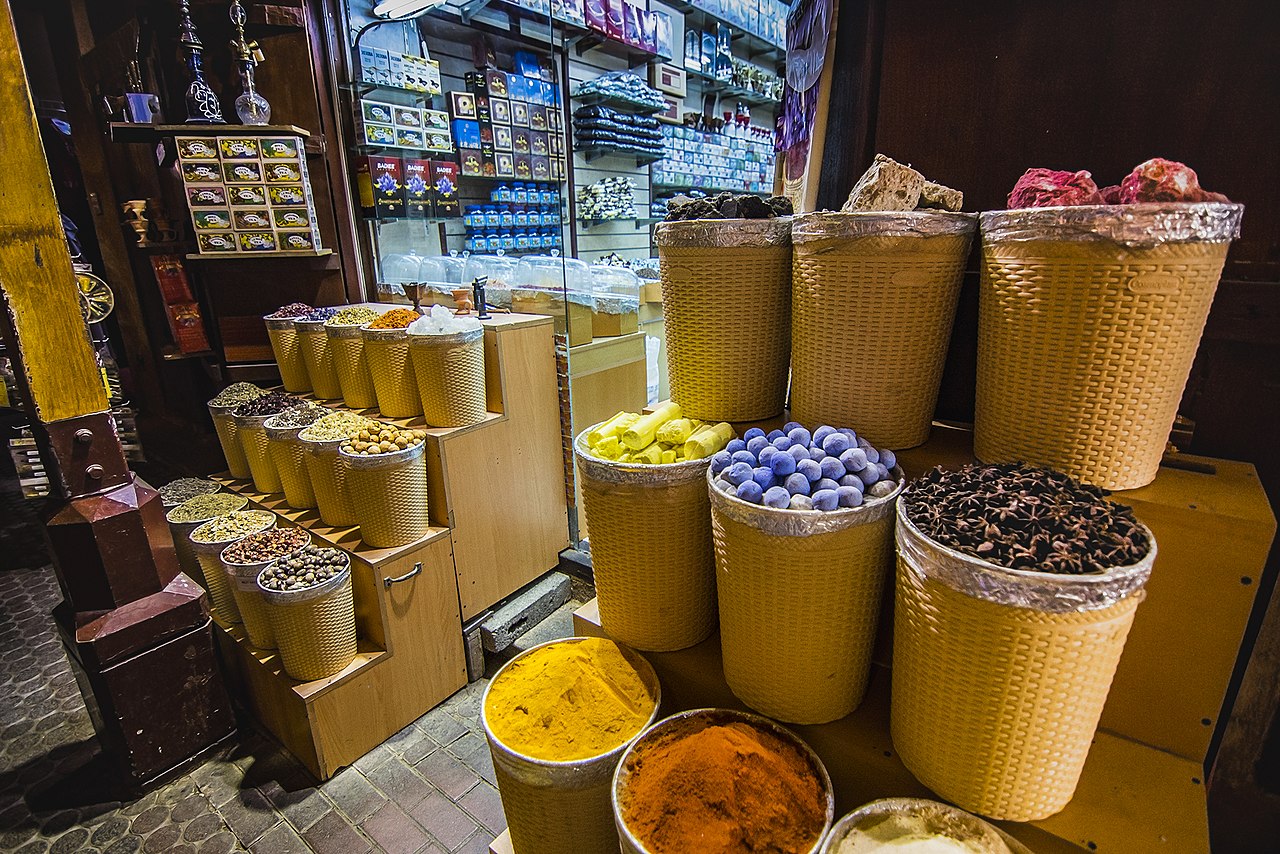 This is like a travel back in time. Visit the traditional Arabian souk (market) that has remained unchanged to a large extent over the centuries. And the Dubai Spice Souk is an absolutely awesome market. With a huge range of spices present here, it's an explosion of colors, aromas, and an overall sensory overload. Carry some of these mind-blowing spices back home, interact with the friendly & garrulous sellers – and you will have a wonderful time, memories of which you will cherish for a long. 
Conclusion
Visiting Dubai during April month is favorable and there are plenty of places to explore. Let us know which places you are planning to visit!