This is not to be confused with an ordinary library. The Mohammed Bin Rashid Library is considered to be the center of culture. This place took close to six to be complete and it will be open to the public soon. The library has already been opened by Sheik Bin Rashid who is the king of Dubai. The museum is shaped like a book stand and it comprises nine libraries, each with its individual themes. The library also has an outdoor and indoor amphitheater, a gift shop, a café with two stories, a conference room, and a museum. The library is said to have at least a million titles both physical and digital copies covering over 30 languages.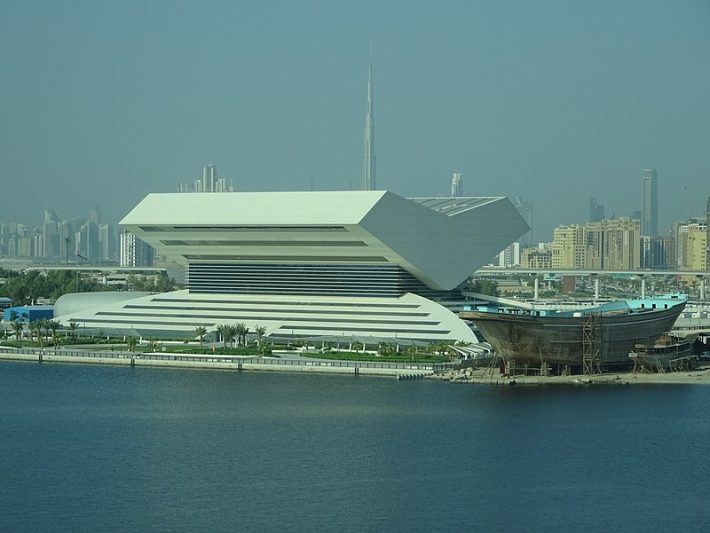 A Brief Overview Of The Mohammed bin Rashid Library
This museum will not have any entrance fee, but people will need to pay for a membership if  they want to borrow a book. The library stays open from Monday all the way till Saturday from 9 in the morning to 9 in the night. The library also has an app that will allow you to book your slots online. The library offers a parking space for no cost. A pathway that will be completely shaded is under construction that will lead to the Al Jaddaf metro point.
Entrance Fee: Free
Timing: 9:00 AM to 9:00 PM
Working Days: Monday to Saturday
The Setup Of The Library
The library covers an area of 54,000 square meters, the design is absolutely grand and has an old-world charm to it. The lobby area of the library is very spacious and is well-decorate. When you enter the place the tall bookshelves will gran your attention right away. The library has tons of titles including some rare publications. All the books here are arranged numerically and also subdivided into genres so it will be easy for you to search for what you are looking for.
The good thing about this library is that it has a section just for blind children with books written in Braille. This area also has a pod with sensors to assist children with autism. The first level has two libraries one that contains atlases and maps and the second is for arts and media. You will find the Emirates section on floor number six, this section has over 37,000 books that have information on the UAE, and that too in multiple languages.
The Exclusive Section
This can be found on floor number seven of the library. So What does this content make it so exclusive? Well, this has rare documents, manuscripts, and books from the 13th century. You will also find early versions of the Holy Quran in this section. Also, the first publication of Miguel de Cervantes will be found here.
You will come across rare books on world history and particularly Egyptian history. They also have the Description de L' Egypte. Other nearby places to visit from Mohammed bin Rashid Library, Dubai Frame, Dubai Festival City, Jumeirah Mosque and many more.
What  Can You Expect At This Museum?
The books in this library are divided into 8 sections such as a corner for reading which are:
An international library,
An Arabic library,
A media center,
An information center,
A family library,
A children's section,
Youth library.
The library is designed to host many cultural events every year and it will also include an art gallery. A heritage museum and a Civilization Museum will also be included. A theater for 500 people will also be included for conferences and lectures. The library will have sophisticated technology to facilitate proper research.
So, if you are in pursuit of knowledge then this is the right place for you. The library also has a host of events in the pipeline involving some eminent authors from all over the world. This library will be the epicenter of art and culture within a short time.