This island is located in Khalid Lagoon and is a beautiful oasis that is blessed with a lot of natural beauty. The Island has modern art, a spacious playground, a café, a book corner, and a butterfly house. This place has a walking path that is 3.5 kilometers and the garden is neatly decorated with white lights that lend a magical touch at night. Do you want to know more about this wonderful Island? Then keep reading as we reveal some fabulous details about the place.
A Brief Overview of Noor Island
This is a tourist attraction that is ideal for families to come and have a fabulous time. You can explore the place. The best thing is this tourist spot also has a restaurant from where you can buy good food and beverage. After you are done you can visit the literature pavilion and also take a look at the different sculptures.
There are number of islands in Dubai, but this island receives many art pieces from all over the world and each of those pieces is very beautiful and artistic. The island has beautiful gardens, which are landscaped very tastefully. The park has a walking or jogging track you will have access to.
How Can You Get To Al Noor Island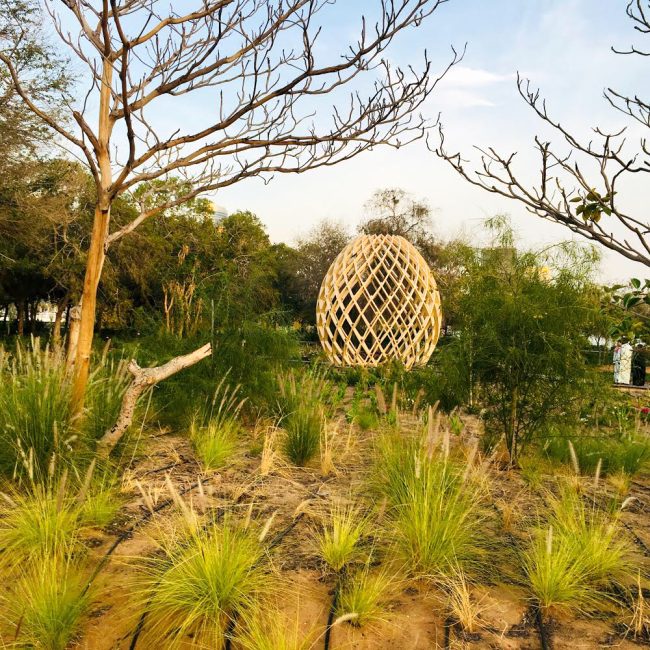 You can get to the island using a bridge located at the back of the Al Noor Mosque. It is almost impossible to find a space to park your car so if you are keen to visit this place, it would be prudent to take a taxi. If you do want to take your car then you have to park your car close to Faisal Mosque and then walk, this might be tedious on a hot summer day.
Things To See And Do On Al Noor Island
Here is a list of some activities and attraction at Al Noor Island that you can enjoy and visit.
Noor Cafe: This cozy café can be found in the Butterfly house, and it offers a wide variety of drinks and snacks. This place has 500 butterflies, which makes this place very special.
Landscape: Are you a fan of beautiful gardens? Then you are going to love the garden inside Al Noor Island. You will get a glimpse of ornamental grass, towering cactus, medicinal plants, trees shape like umbrellas and bottles, and traditional olive trees. Also check the Snoppy Island that is located in Fujairah.
Sculptures: If you love art then feast your eyes on the beautiful sculpture on this island. Most of them are made by artist all over the world. Over the years the island has added a few interesting pieces.
Butterfly House: This attraction has been given an award for being a home to more than 20 species of rare butterflies. This is the main attraction that people come to see on this island.
Playground For Kids: The good thing about this island is that it comes with a spacious playground and this what makes this place child-friendly. The playground also has seating areas so you can supervise your kids without any problems.
Literature Corner: If you want to spend some quiet time by yourself then this is the place for you. If you are fond of writing down your inner most feelings then you can sit here and indulge in your hobby, you will have the soothing sound of a fountain to keep you company. This place is definitely good for getting rid of all your stress.
Sky Watch: You can indulge in astronomy and you will have guides who will help you locate stars and planets through the powerful telescopes provided there.
Yoga: If you love fitness why not sign up for the yoga classes, which are held very close to the butterfly house.
When Does It Open
The island is open from 9 in the morning till 11 pm at night. The park closes at 12 am during weekends. If you do not want to experience the harsh temperature then you should visit after 4 pm in the evening.
Is This Island Worth Visiting?
Yes, this island is a must-visit. If you are looking for a fun day out with friends and family then this is the place to visit. This is a magical place that not only can you enjoy, but your kids are going to love it very much too. So do make your way to this enchanting place and create memories to last for a long time.