Exploring Dubai in a stretch limousine is the ultimate in comfort, style and luxury. Nothing could make a stronger style statement than stepping out of a plush stretch limousine.  The sights and sounds of Dubai appeal to you even more when you go around the city in one of our classy limousines.  If you're looking to make heads turn when you arrive, our limousines are what you need. Call us more information about our fleet and limousine tour dubai. Book one of our magnificent limousines right away. A limo is just the right thing to let people know that you have arrived. Enjoy basking in the glow of admiring glances as you step out of your palace on wheels. There simply could be no better way to make heads turn.
Limousine Ride Dubai The dream megalopolis of Dubai attracts millions of tourists from all over the world every year. Dubai's myriad attractions act as magnets for tourists of every hue. Be...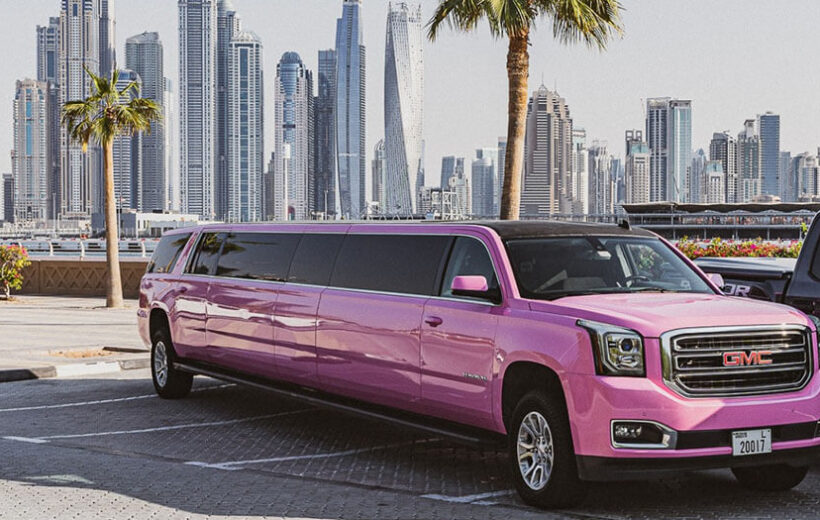 Cruise & Glide Are you planning a romantic outing with someone special? We can help you in that department. Allow us to introduce you to a combo tour that includes...
limousine car ride in Dubai Have you ever dreamt of traveling around a big city in a limousine? Well, we can make that dream come true for you. How We proudly...
Limousine Tour Dubai
Our fleet of limousines caters to the varying needs of our esteemed clients. While the minimum capacity in our limousines is two, we have a few of them that can accommodate ten people in sublime comfort. Tell us how many of you are there and we shall pick out the perfect limo for you. We make sure that you and your guests travel in supreme style in our limousines.
A ride in a stretch limousine through the magnificent city of Dubai is much coveted among visitors from every corner of the world. It's just the thing for you if you're looking to explore the vibrant city in the lap of luxury. Exploring the best of Dubai in one of our splendid limousines is an experience that you'll cherish forever.
We recommend our limousines for couples looking for a romantic day out, families or groups of friends. Just let us know what you need a limo for, like proposing to someone, spending quality time with your special one, celebrating a birthday or Valentine's Day and we send you the perfect one. Our professional team of experts will happily customize the limo accordingly.
You may also ride a luxurious limousine for a one-way or two-way transfer to a certain location, like a hotel. As you get off your limo, you tell people that you have arrived. While you need to book a limo for a minimum of one hour, we suggest that you book one for at least two hours so you can relax and soak in the wonderful experience. You won't need to rush through things.
Our friendly and courteous staff shall only be too happy to arrange a cake for you if you're looking to celebrate a birthday or make special arrangements for other occasions like Valentine's Day or say, your anniversary. No matter what the occasion, a ride in one of our luxurious limos through the opulent Dubai is an experience you shall never ever forget.
Features of the Limousines
The regular colors are black and white. Please specify if you seek any particular color
Different capacity of fleet starting from 8 pax, 12 pax, 15 pax & 25 pax
Quality sound system
Things to Know
The rates are inclusive of fuel charges and driver fees
You aren't allowed to carry alcohol and you may bring your own soft drinks and snacks
Please confirm availability on WhatsApp or through live chat. Bookings are confirmed subject to availability
Pick-ups are done only from centrally located hotels and residences. Pick up from places far from the city center are done on the payment of an additional surcharge subject to availability
If the pick-up is from the airport, airport parking charges shall apply as well
Carrying luggage into the limos isn't allowed
Important Information
We arrange the pick-ups only from hotels and residences located in central Dubai in and around Sheikh Zayed, Deira, Bur Dubai, and Marina

The limousines have tinted windows, mirrored ceilings, fast Wi-Fi, and neon lights

Any consumption of food or alcohol or smoking inside the limousine is strictly prohibited

The Limousine rides are arranged subject to availability. During peak season, if any limo isn't available on the day and time you choose initially, you shall be offered a ride on any other day of your convenience
---
The Cancellation Policy of Limousine Tour Dubai
There shall be no charges for cancellations made at least 48 hours before the scheduled trip

There shall be a 100% charge if the cancellations are made within 48 hours of the scheduled trip

If you're found eligible for a refund, the amount will be credited to your account within 7 working days

We tell you, every moment you spend on any limousine of ours is sure to be unforgettable. We'll stop by different venues along the ride for photo ops so you can take snaps. These snaps shall stay as mementos of a wonderful experience you are sure to cherish forever.
Frequently Asked Questions (FAQs) about Limousine Tour Dubai
Am I allowed to bring alcohol?
No, you aren't. Local laws bar you from bringing alcohol on the rides.
Can I be picked up from anywhere?
No, Pick-ups are arranged only from homes and residences that are located centrally. Additional charges apply if the pick-up is to be done from any far off place.
You are allowed to bring snacks with yourself, but not meals.
Am I allowed to carry luggage?
No, you aren't allowed to carry any heavy luggage with yourself.