Dubai's 'jewel in the crown,' the Burj Khalifa stands tall above the clouds at a jaw dropping height of 828 meters (2716.5 feet). Of course, Dubai has much more on offer but there's no denying the fact that the Burj Khalifa has given Dubai an iconic stature among global tourist hotspots. You are sure to be amazed when we tell you that the Burj Khalifa is three times taller than the Eiffel Tower in the French capital of Paris. After you've reached the 148th floor of the Burj Khalifa on one the very fast elevators, you'll be floored by the stunning panoramic views of Dubai city.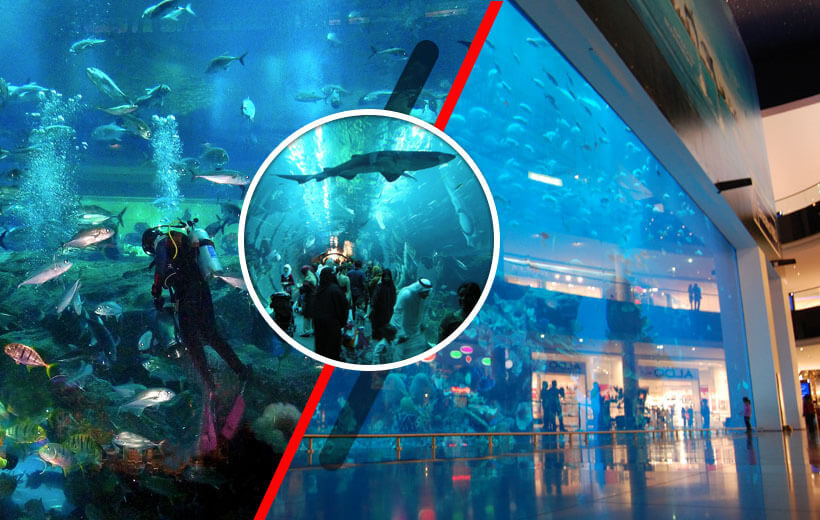 The Dubai Mall Aquarium takes things to a scale so grand, you would have thought them impossible before being there. Dubai has a knack for making seemingly impossible things come...
Skip the line to access Burj Khalifa Observation Deck and watch it from the 124th Floor: Zoom up the tallest building in the world, the Burj Khalifa in the fastest...
Access the most luxurious 148th-floor sky at Burj Khalifa by booking the entrance ticket:  It's a stunning bird's eye view of the vast expanse of Dubai city when you enter...
At the Burj Khalifa, you'll love to know about the many interesting tidbits that abound the iconic building. The building boasts of the world's highest elevator system that covers all of 160 floors—a major attraction among the hordes of tourists that throng the Burj Khalifa. Enjoy the breathtaking aerial views of Dubai that spreads far and wide down below the building from the observation decks on the 124th or the 148th floors. You are sure to reach for your camera in no time to capture the spectacular views.

FAQs
How long does the Burj Khalifa stay open?
The Burj Khalifa is open 24 hours. Enjoy spectacular views of Dubai city during the day and watch it glitter after sundown.
Is it wise to book the tickets in advance?
It sure is. The Burj Khalifa is a very popular tourist destination. You would do well to book tickets in advance to avoid last minute rush. For a full refund, do make sure that you make any cancellations at least 24 hours before the visit.
Can we carry our own food to the Burj Khalifa?
No, you can't bring your own food inside the Burj Khalifa.